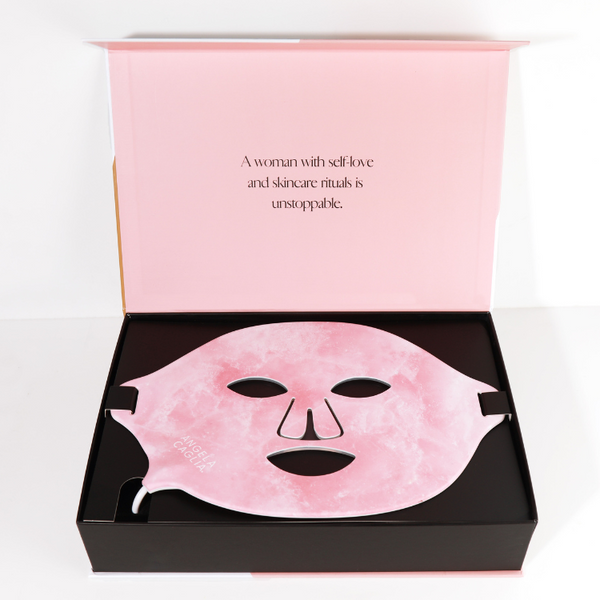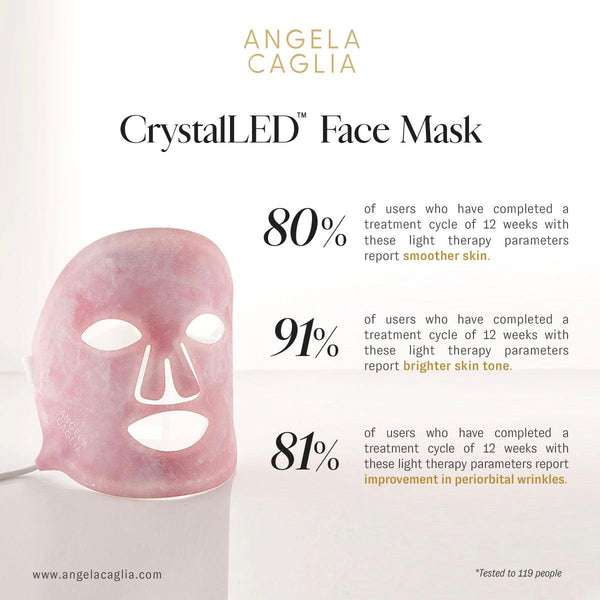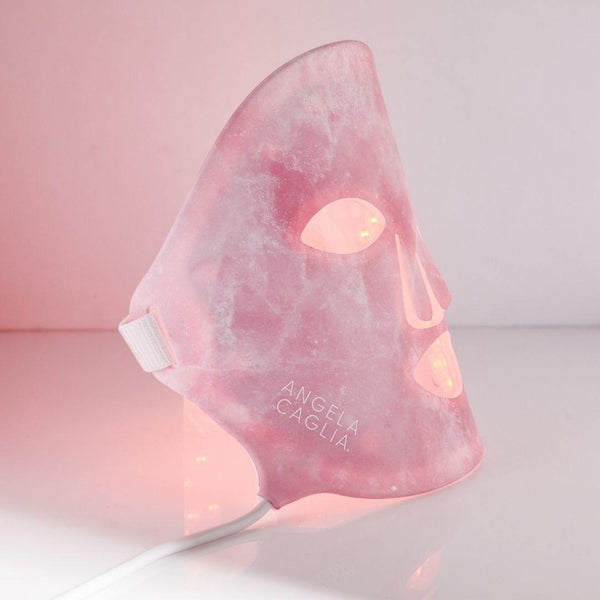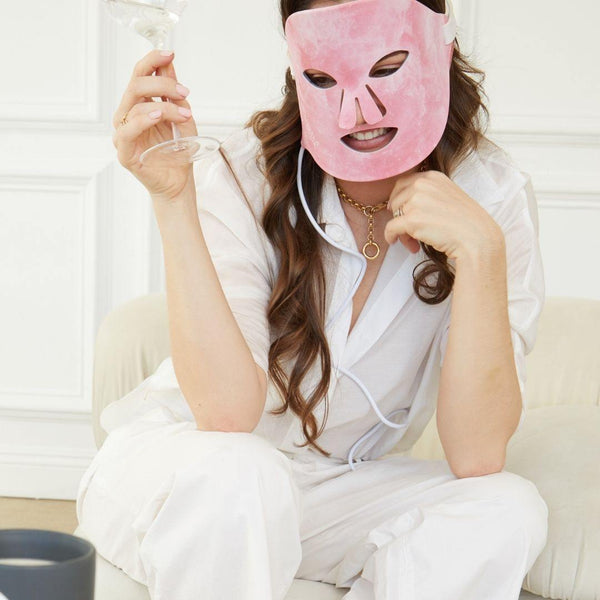 Super Anti-Aging 180 LED Mask
FDA Cleared

Free shipping. details >
In stock Ships in Standard Shipping 3-5 business days
Meet the Super Anti-Aging Version of our Crystal + LED face mask with 180 anti-aging LED lights, featuring both RED and Near Infrared (NIR) LED -- The MOST number of anti-aging LED lights of any flexible medical-grade silicone mask.

From Celebrity Facialist Angela Caglia comes the world's first Crystal LED Face Mask, combining cutting-edge LED light therapy technology with old-world rituals for a holistic wellness skin treatment experience at home.
Created by Global Skincare Expert 
Known for her namesake brand's luxurious range of tools, gadgets, and botanical skincare for the ultimate at-home facial routines, Angela Caglia is proud to introduce this innovative, first-of-its-kind crystal Super Anti-Aging LED face mask with 180 total anti-aging LED lights.
RED and NIR LED lights
The CrystalLED Face Mask® features Anti-Aging RED (630nm) and Near Infrared NIR (850nm) FDA-cleared LED treatment wavelengths to penetrate the deep layers of the skin and stimulate collagen and elastin production. At the same time, natural rose quartz crystals impart soothing energy.
Patent-Pending LED Face Mask Design
The patent-pending design is made of flexible medical-grade silicone for maximum light penetration and benefits to the skin while also being travel-friendly. Now the signature LED (light emitting diodes) and rose quartz facials Angela performs in her Beverly Hills treatment room are available.
LED Light Therapy Mask Benefits
FDA cleared for the reduction of the appearance of fine lines and wrinkles.
HOW TO USE LED FACE MASK
STEP 1
Before using your Angela Caglia Crystal LED Light Therapy Mask, thoroughly cleanse the skin and make sure it is dry and free of any skincare products.
STEP 2
Plug the mask into the rechargeable battery controller.....the other cord is for charging purposes only and is not to be used during operation. Press firmly on the power button until you hear a beep, and the LED mask turns on.
STEP 
Create your self-care ritual. Here are a few: find a quiet, comfortable place and meditate with your mask on; watch your favorite show; use while traveling; multitask while doing household chores; sip your favorite beverage; unwind with it before bed.
STEP 4
Place your Angela Caglia Crystal LED Face Mask on your face and secure the Velcro strap for a comfortable and snug fit. 

You should be able to walk around with the mask on with just the controller unit in your hand or pocket and no other cords attached to the bottom of the controller/battery.

The treatment will automatically shut off after 10 minutes. We recommend 3-5 times a week.
STEP 5
After the LED light therapy treatment mask is complete, enjoy a few moments to exhale and relax. Then, apply your favorite Angela Caglia Serums or Angela Caglia Soufflé Moisturizer in upward massage movements on your face, neck, and décolleté further to increase the anti-aging benefits of the led light.
DOES LED LIGHT THERAPY WORK?
See Results Below From Clinical Testing 
CLINICAL RED LIGHT ANTI-AGING STUDIES:
95% of participants said skin tone improved, texture, firmness, elasticity
82% of participants saw improved skin smoothness
91% of participants saw brighter skin tone
81% saw improvement in periorbital wrinkles
*Results based on a study of 119 participants over 12 weeks.
"Creating a mask like this is a love letter to women everywhere. I wanted the mask to look comfortable and wearable – not like a Power Ranger. I wanted it to be feminine and beautiful with real Rose Quartz Crystals that brought a sense of calm while using it. We have a patent-pending technology of combining both therapies and bringing old world to new world in combining and charging the crystals with LED light therapy. The experience is so beautiful that women will want to use their masks more, which means better results with consistency."  -- Celebrity Esthetician Angela Caglia
ROSE QUARTZ -- HISTORY AND BENEFITS
Known as the "love stone," the rosy-hued rose quartz crystal has been treasured for thousands of years.  It might not be an exaggeration to claim that the stone has been valued since the dawn of time – crafted jewelry from the crystal was found in the remains of Ancient Mesopotamia dating back to 7000 BCE.
Ancient Greeks and Egyptians hailed the stone's magical powers, celebrating it through myth and ritual.  It was believed by the Greeks to imbue its owner with a sense of love and by the Egyptians to ward off aging. The Romans claimed that it was the crystal of Venus, the goddess of love.
There are no formal studies to prove the efficacy of rose quartz in medicine.  However, overwhelming anecdotal evidence suggests at least some truth to the weighty claims surrounding it.  Throughout centuries of human history, the stone has consistently held share to a host of healing benefits, both physical and emotional.
WHAT'S INCLUDED WITH YOUR LED FACE MASK and KEY POINTS:
1.  Soft, flexible medical-grade silicone LED light therapy mask
2. 180 total RED and NIR LED lights
3.  Dual Wavelengths: 630nm anti-aging RED light and 850nm Near Infrared light treatment wavelengths
4.  Feminine design
5.  Controller
7.  USB C to USB A connector
9.  Travel pouch
10.  Protective goggles
11.  User Manual
12.  Output: 30mW/cm2
13.  Treatment Dose: 18J/cm2
14. Recommended total dose: 540J/cm2 (5 times per week, six weeks)
HOW TO CLEAN
After the LED light treatment, remove the mask and wipe clean with a gentle cleansing wipe or a small amount of rubbing alcohol. Store in a clean, dry place or travel pouch.
According to Harper's Bazaar:
It's supremely light and comfortable, you'll look forward to using it each evening. 
As featured in Town and Country here:
As featured in Harper's Bazaar here:
Check out more information on our LED Red Light Therapy Blog Post Here.
Check out more details of our Rose Quartz Crystal Blog Post Here.
THIS ITEM IS NON RETURNABLE