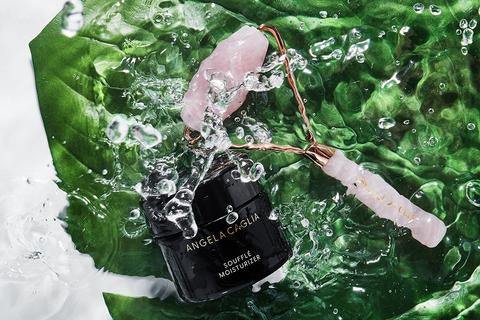 Best Organic Skincare Products
Best Organic Skincare Products
It's common for people to choose organic products for their food, hair care, and clothing. However, using organic skincare products is equally important. Your skin is the largest organ in your body and can absorb up to 60% of toxins. Think of your skin as a sponge that soaks up its environment. 
While it would be nice to live in a clean and pure environment, for most of us this is an idyllic fantasy. In our everyday lives we experience toxins. Some of them come from pollution. Toxins can even come from items that we normally think of as harmless, like carcinogens from candles. Other products can damage skin with chemicals, fragrances, and even colored dye. Unfortunately, some of these additives have even been linked to cancer. We can't always avoid toxins but we can invest in products with organic and natural ingredients. Our bodies will thank us for it later.

We list some of our best natural beauty products so you can have healthier, glowing skin. 
Best Natural Skincare Products

Masks
Masks are one of the most affordable organic skincare treatments. They are easy to use and have many benefits. If you want to deeply hydrate, moisturize, and improve skin texture quickly, masks are the way to go. Also, you can apply them at home while relaxing in your pajamas or while watching your favorite shows. 
We recommend the Hydrojelly Mask with Egyptian Rose for a deeply hydrating facial. It is high in antioxidants and made from organic rose. It is especially useful for treating dull or dry skin, fine lines, and surface wrinkles. We love the Hydrojelly Mask because it also allows other products to penetrate the skin more deeply. We recommend using it with the Daily Botanical Serum or the most potent hydrating and toning facial. This at-home treatment can be used on all skin types and can improve your skin quickly. 
In addition, for a spa-like experience at home, we recommend the Hydrojelly Mask with Antioxidant Gogi. This mask is especially formulated to contain a high level of antioxidants, Vitamin C, and to protect the skin from environmental stressors like pollution. If you want brighter, firmer, and cleaner skin, this mask should be your go-to. Like the Hydrojelly Mask with Egyptian Rose, this mask allows for deeper penetration of other products. This mask is beneficial for all skin types and is particularly useful for dry or dull skin, sensitive skin, uneven skin tones, and fine lines. The Hydrojelly goji mask will leave your skin feeling soft and glowing.
Serums and Creams
Your skin needs to be cleansed and moisturized every day to maintain its beautiful appearance. Serums are some of the best natural beauty products because they deliver a potent dose of active ingredients to treat the skin. Serums are also able to be absorbed by the skin very quickly to deliver fast results. Similarly, face creams lock in hydration all day or night and protect your skin from environmental factors. It is most effective to use both serums and face creams together to keep your skin fresh and youthful. 
Our Daily Botanical Serum is highly effective for balancing the skin. It is high in antioxidants and vitamins, and contains about 190 bioactive ingredients. This includes Sea Buckthorn Oil, which has 15x more Vitamin C than an orange! These ingredients, combined with fatty acids, vitamins, and other products, give your skin the most amazing texture and glow. Although this serum is great for all skin types, it is particularly useful for mature, sensitive, dry, and dehydrated skin.
If you are wanting a deep cleanse without the chemicals, try the Anti-Pollution Cleansing Oil. It gently but effectively dissolves makeup, sunscreen, and pollution, all while giving a potent dose of antioxidants. These antioxidants combat your skin's daily environmental stressors, so your skin looks plump, hydrated, and bright. This product has special ingredients sourced from all over the world, such as Marula Oil, Moringa Seed Oil, and Black Currant Seed Oil. Ingredients are obtained responsibly from organic farming. We recommend using this product with our pink sponge.
The Souffle Moisturizer has luxury organic skincare ingredients containing special Lipid-Lock technology to rehydrate the skin. This moisturizer is rich in antioxidants, aloe, and vitamins A and C. It also contains a special ingredient called Meadowfoam Seed Oil, which is transformative at balancing the skin while helping it soak up other active ingredients. It also helps to reduce the appearance of wrinkles, firms the skin, and deeply hydrates. The Soufflé Moisturizer is best used on normal to dry skin. It is not recommended for acne-prone skin. Try this daily moisturizer after using the Daily Botanical Serum for best results. 
Natural Skincare Practices & Tools
If you have never heard of facial Gua sha, you are missing out. This ancient Chinese practice offers many benefits for the body and mind. Facial Gua sha is like yoga for the face. It works out tension and therefore promotes better circulation for healthy skin.
The Rose Quartz Gua Sha tool helps you relax while relieving stress and detoxifying the skin. By encouraging lymphatic drainage and blood circulation, your skin can look firmer and have a beautiful glow. As a result, it is one of the most efficient products to relieve inflammation and puffiness. Read to find out more about the benefits of facial Gua sha here. 
Natural beauty rituals and tools enhance the experience of facials at home and partner well with organic skincare products. In addition, they provide skin care that you can normally only find at a spa or with an esthetician.
Natural products protect you from environmental toxins and pollution. They can be eco-friendly as well. When choosing the best organic skincare products, be sure to read the ingredients, or choose an organic skincare line. Although life can be stressful at times, it is important to take the time to give yourself the luxury skincare you deserve. 
You May Also Like:
Skincare Basics | Why I Chose a Natural Product Line
How to Remove Wrinkles from Face Quickly
How to Detox Skin From the Inside Out